Titolo originale: Professor Marston and the Wonder Women
Nazionalità: USA
Anno: 2017
Genere: Biografico, Drammatico, Erotico, Psicologico, Sentimentale, Supereroi
Durata: 108 min.
Regia: Angela Robinson
Un effluvio di erotismo, passione carnale e amore che oltrepassa le regole societarie per giungere alla creazione di un'eroina destinata a fare la storia. In Wonder Woman il professor Marston ha integrato le due donne della sua vita: Elizabeth e Olive.
Wonder Woman è una dichiarazione d'amore da parte di un uomo che nella vita ha saputo spingersi oltre le convenzionali restrizioni del costume generale, per poter assaporare e proteggere la propria fonte di affetto e ispirazione in un'atmosfera di sincero e ricambiato rispetto. Una storia che ha dell'incredibile, che oltrepassa la consuetudine delle relazioni interpersonali e che dona perfettamente senso ad un personaggio storico dei fumetti, regalo di quel cocciuto insegnante alle sue due meravigliose donne.
Professor Marston & the Wonder Women è il film sulle origini della moderna Atena che ha segnato con aria di cambiamento il mondo dei fumetti, il racconto di un trio fuori dagli schemi ordinari che ha vissuto di passione, di fiducia, ma soprattutto di un amore sinceramente condiviso e spinto oltre quei confini, i quali non si consideravano possibili da superare. Un'esistenza e una sperimentazione derivanti da un'unione quanto mai stretta che ha permesso di arrivare alla purezza, alla giustizia, al temperamento e alla forza della conosciuta Wonder Woman.
Mr e Mrs Marston (Luke Evans e Rebecca Hall) conducono matrimonio e professione nelle aule di ricerca di una nota università inglese, la stessa che ha portato i due professori alla conoscenza della giovane ed estremamente bella Olive Byrne (Bella Heathcote), la quale li ha fatti totalmente innamorare. Un genuino affetto che la sveglia studentessa ricambia con trasporto, instaurando con i coniugi una famiglia regolata da un rapporto poliamoroso e che si rivela più solido che mai. Una realtà che i tre partecipanti sapranno gestire per le toccanti e frementi emozioni che in loro riesce a suscitare, meno condivisa da una comunità che non vede di buon grado qualsiasi irresponsabile trasgressore del decoro. Sarà però da questa insolita forma di felicità che William Marston trarrà linfa per il suo personaggio immaginario, fusione ideale delle sue due splendide donne.
Professor Marston & the Wonder Women insegna che la vita a volte sa essere più grandiosa della fantasia stessa. Ci sono film stupefacenti che parlano di eroi, di scienziati, artisti e scrittori, di grandi legami del passato o morti sospese tra il tragico e il sublime. Poi, tra questi, c'è il film di Angela, biopic non solo sull'inventore di uno dei più famosi personaggio dell'universo DC Comics ancora in circolazione, ma quadro dei suoi anni in salute in cui ha trascorso i propri giorni circondato da un amore felice e illimitato. Il nuovo film della regista statunitense Angela Robinson è il percorso segnato dalla psicologia, dalla verità e dall'incontrollabile attrazione fisica e mentale che ha portato tre persone innamorate ad aderire a una relazione dai contorni inesplorati, coltivando un progetto nato dall'intrecciarsi delle loro speciali personalità.
Inseguendo l'intenzione di voler unire in un'unica figura la cultura popolare e lo studio della mente umana, da sempre materia di studio del protagonista, William Marston fonderà in un solo corpo ciò che delle sue due amate ha da sempre più ammirato, aggiungendo alla sua Wonder Woman quel temperamento, quella voglia di giustizia, di verità e impegno nei movimenti femministi, propri sia della moglie Elizabeth Marston che della loro dolce compagna Olive.
Una carica erotica carnale e magnetica che nel film è un punto cardine dell'infuocata e duratura passione dei tre individui, che si riversa in una trasformazione che va dal vissuto alla finzione e che sveglia nel personaggio di William la voglia di raccontare la potenza interiore di tutte le donne, da lui appresa tramite il tempo passato accanto a due capaci, implacabili, sensuali creature. Una sessualità ricalcata dalle pagine colorate di Wonder Woman e invogliata dall'esperienza dell'eccentrica famiglia Marston, una frenesia che nell'opera cinematografica si rivela avvolgente e ammaliante e che dona lo spirito da guerriera dell'invincibile Amazzone. Un millantare l'indecenza secondo il corretto costume da rispettare, il quale però nulla può contro l'integrità salda della supereroina, insuperabile perché donna.
Con una Rebecca Hall eccezionale nei panni incuriositi, poi assolutamente travolti di Elizabeth Marston, l'attrice risplende della luce che verrà poi riflessa nell'icona del femminismo, la quale ha saputo abbattere la barriere degli stereotipi e presentarsi come un'indagatrice dell'essere umano, il quale a lei si sottomette grazie alla sua influenza, ma soprattutto al candore del proprio cuore.
Mr Marston and the Wonder Women è il privato che condiziona la vita pubblica, entrambe desiderose di una libertà che il personaggio della penna di Mr Maston ha saputo tratteggiare secondo l'onore e l'erotismo che da principio la caratterizzano. L'approfondimento di un vincolo che è rimasto nel tempo inviolato, l'amore che ha saputo condurre un trio premuroso e ardente verso giorni pieni e lieti sotto il coraggio di Wonder Woman.
Recensione: cinematographe.it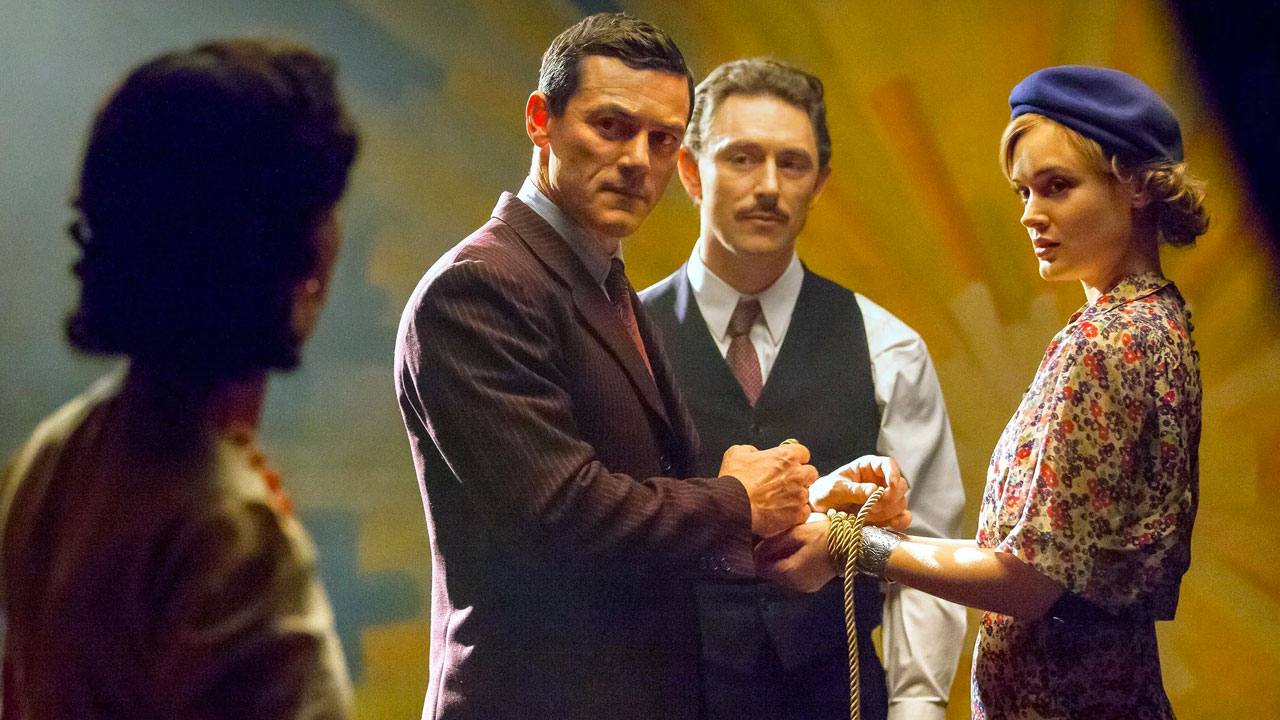 Related posts