Titolo originale: You Were Never Really Here
Nazionalità: UK
Anno: 2017
Genere: Drammatico, Thriller
Durata: 95 min.
Regia: Lynne Ramsay
Al momento dell'annuncio del programma della selezione ufficiale del 70° Festival di Cannes è stato precisato che You Were Never Really Here, opera quarta della cineasta scozzese Lynne Ramsay, basata sull'omonima novella di Jonathan Ames e presentata in concorso, era ancora in fase avanzata di post-produzione, e che al festival sarebbe stata mostrata una copia in qualche modo provvisoria. Così è stato: come specificato dalla regista, la versione proiettata a Cannes era il final cut, ma privo di titoli di coda. Al termine del lungometraggio, solo due scritte temporanee, in attesa dei credits definitivi: "Un film di Lynne Ramsay, con Joaquin Phoenix". Lo stretto indispensabile, che riassume anche idealmente il maggiore punto di forza di questo racconto violento e per lo più appassionante: la performance gigantesca di un attore talentuosissimo, che proprio sulla Croisette si è portato a casa il premio per la migliore interpretazione maschile, mentre la Ramsay è stata insignita del riconoscimento per la sceneggiatura (a pari merito con The Killing of a Sacred Deer di Yorgos Lanthimos).
Siamo a New York, città che Phoenix ha l'abitudine di frequentare, sofferente, nei film di James Gray. In questa sede lo ritroviamo nei panni di Joe, un veterano di guerra che sfoga i propri impulsi violenti repressi accettando vari incarichi da vigilante per conto di John McLeary (John Doman). Tra i clienti c'è il Senatore Williams (Alessandro Nivola), che chiede a Joe di salvare sua figlia Nina (Ekaterina Samsonov), scomparsa misteriosamente nel mezzo di una campagna elettorale. Questo dà il via a una notte di sangue, dominata dalla brutalità visiva messa in scena dalla regista, abituata a una scioccante schiettezza in termini di violenza sullo schermo, e dalla prestazione molto fisica e dolorosa di Phoenix, il cui look ingannevole – simile alla fase I'm Still Here, quando finse di aver lasciato il cinema e si atteggiò da artista incompreso e incomprensibile – cela un tormento interiore ipnotico e straziante, dal prologo misterioso fino alla conclusione quasi cronenberghiana.
Come da consuetudine, la Ramsay gioca abilmente sull'atmosfera lugubre e in parte malata che attraversa tutta la pellicola, ma in questa occasione viene a mancare la precisione nella scrittura: alcuni momenti e personaggi sono appena abbozzati, in nome di un'ambiguità che a tratti diventa più irritante che affascinante. Solo in mano a Phoenix si manifesta la vera forza drammatica del film, contenuta in un corpo costantemente sull'orlo di un precipizio spirituale, punto di non ritorno nel quale riesce comunque a penetrare un alone di speranza, per quanto condito con quantità copiose di liquido ematico.
Recensione: nocturno.it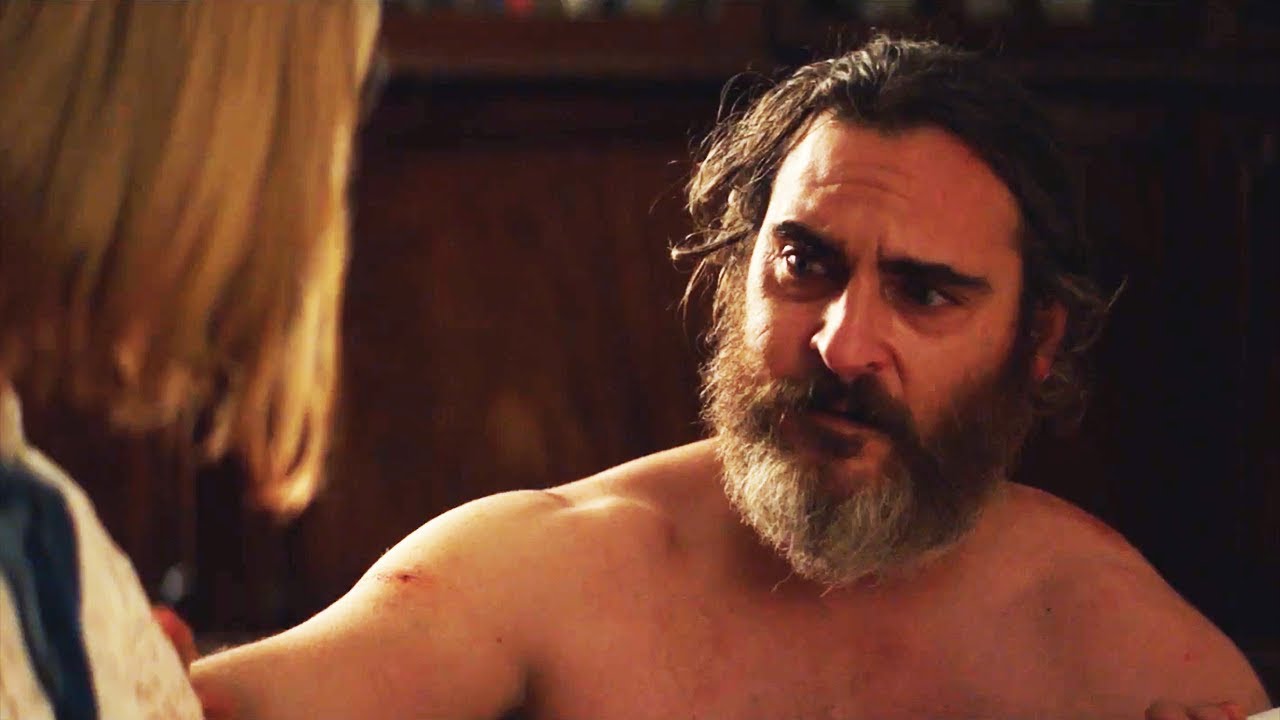 Related posts